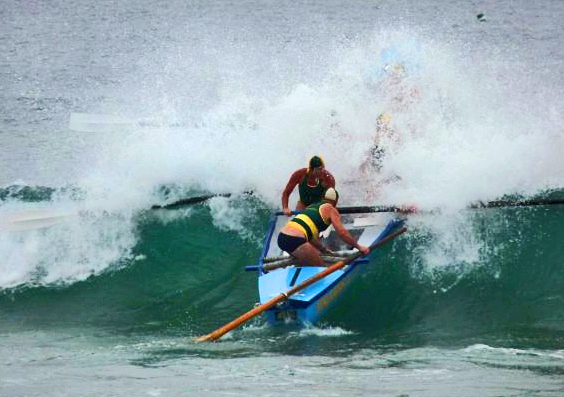 There's something uniquely Australian in the image of a boat crew, the sweep in control at the stern, batting their way though huge breakers to rescue a hapless swimmer fighting the rip. When a swimmer is in trouble too far beyond the break to be reached by a lifesaver attached to a belt and reel the boat went out. Likewise if rescues had to be made around a rocky headland - maybe a fisherman had been swept into the sea - it was a job for the surfboat.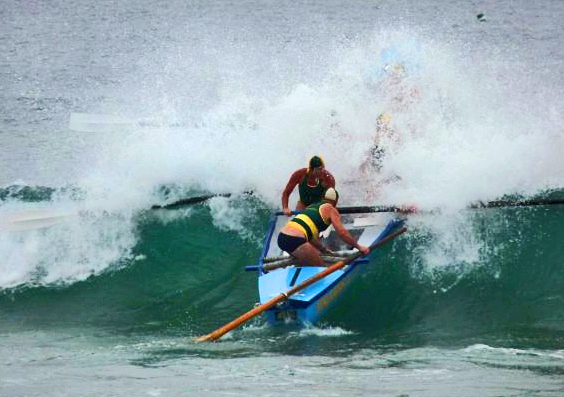 With the introduction of inflatable rescue boats many believed that the surfboat was no longer deemed a rescue craft. But intense regional, state and national SLSC boat competition and the incredible commitment and enthusiasm of thousands of participants, and in recent years a massive increase in female crew members, has kept this challenging and thrilling sport alive.
In fact, it's booming; boaties are a culture within the SLSC culture!
Surfboat competition is known to have begun in NSW in the early 1900's and whilst Initially, the surf boat craft was developed as a rescue vehicle, today Surfboats are more commonly associated with inter-club competitions and the most spectacular footage of all Surf Life Saving competition - particularly when the swells are large.
Crew members must be volunteer Surf Life Savers to compete. The rowing discipline commands a high level of fitness, commitment and skill. It complements the core set of competencies volunteer surf life savers must possess in order to obtain the Bronze Medallion qualification and patrol beaches. Competitions typically commence during November and run through until March. During this period, competitions take place at a local, state and national level, culminating at the National Titles in late March.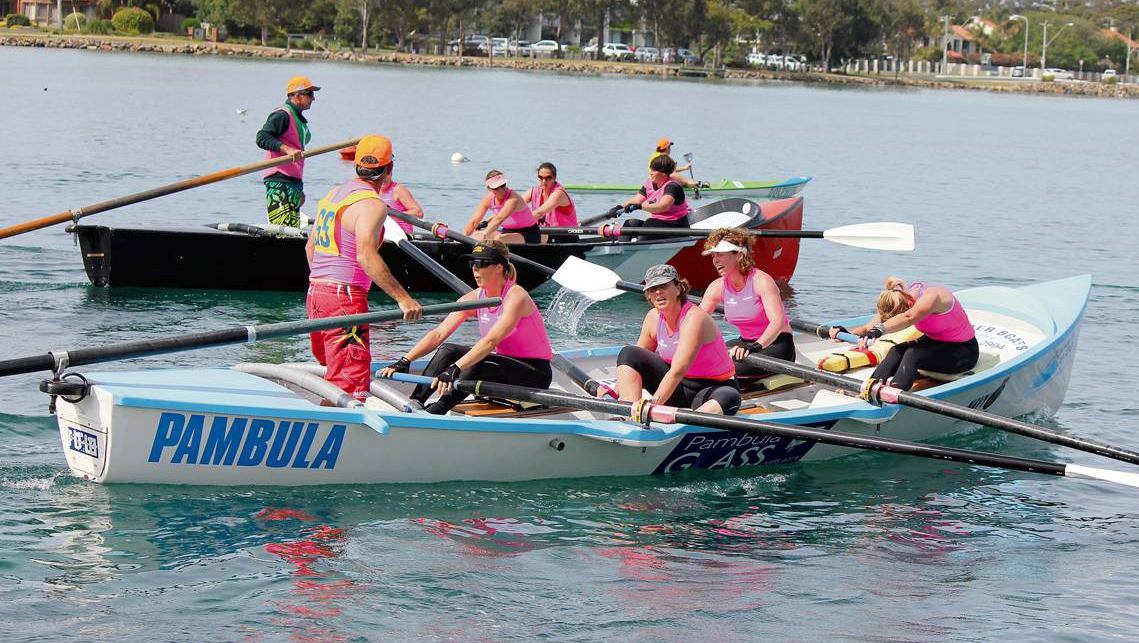 The domain of Surfboats, like Surf Life Saving was one initially dominated by males, however, growth in recent years can be attributed to the influx of female competitors, who row the same size and weight craft as male competitors. At Pambula in fact, the womens teams are sometimes more competetive than the men!
The clubs Surf Boat Captain Chris Briggs, is starting social rowing on Friday afternoons commencing October 10th. If interested, please call or text him so he can put you on the list to get involved. It could be surf rowing or flat water rowing, depending on conditions and all proficient life savers are invited. We can try new sweeps and/or rowers, whether you are experienced or not, all are welcome! We can swap and change crews and have a good goss' with a few refreshments afterwards. Please feel free to get involved. It's all about a bit of fun. Contact Chris (Briggsy) on 0427646550.
Each year Pambula hosts the 'Club to Pub' race: A 10km event taking a triangular course from Pambula Beach, across to Haycock Point. From there, rowers and paddlers cross the bay to Long Point and then across Merimbula Bar into the lake system, to finish at the Jetty opposite the Lakeside Hotel. The event is open to both Surf Boats and Ski paddlers, over the age of 15 and whilst Ski paddlers are not required to be Surf Life Saving members - Boat crews must be currently registered members.
The club also actively competes in the George Bass Marathon the longest and toughest surfboat marathon in the world. Over the years, entries have come from every State in Australia, as well as Great Britain, Wales and New Zealand. The race is run bi-anually and is contested over 7 days (one leg per day), beginning in Batemans Bay and finishing at Eden. The next race is scheduled around new year 2016, so get training if you want to participate in this iconic event!
Cick here for a link to the Australian Surf Rowers League Training & Technique page